Range Rover Vogue is the entrance ticket that takes you into the fantastic world of Range Rover. You can rectify any illusions if you have any about this vehicle being cheap or under par by any standards. Never the less you are setting foot in to Range Rover territory. If you are planning on replacing the Range Rover Vogue engine or getting it rebuild then you have landed at the right place. Royal Rebuilds has decades of experience in replacing, fitting and rebuilding the Range Rover engines. We always keep a large stock of used and refurbished Range rover Vogue engines and if by any chance we do not have the required engine available, we rebuild your existing faulty engine back up to the highest of standards. .
Range Rover Vogue Engine Replacements Preferences
Range Rover Vogue is known for its reliability issues and with so much technology incorporated into its engine, it is common to have faults and problems with its engine. If your mechanic recommends you to replace the engine then it pays to know the choices you have. Generally, you have 3 popular choices when it comes to replacement engines for Range Rover Vogue.
You can buy brand new engine from the dealership which without doubt is the most reliable type of engine you can buy. Only problem is that buying and getting it fitted from the dealership is always extremely expensive and can easily disturb your budget. You can save some money by opting for another popular choice which is to buy a used engine for your Range Rover Vogue. This can save you considerable amount of money but you must assure that the engine you are buying is authentic and reliable and good to run for a few years. Unless you have years of experience dealing with engines you cannot know this about the engine. Best way to go is to buy a refurbished engine which is basically a used engine but once in our facility we open up the whole engine piece by piece and replace any suspect part with brand new one. This engine can save you a lot of money when compared to the price of a new engine. Performance and reliability wise a refurbished engine is as good as a new engine anyway.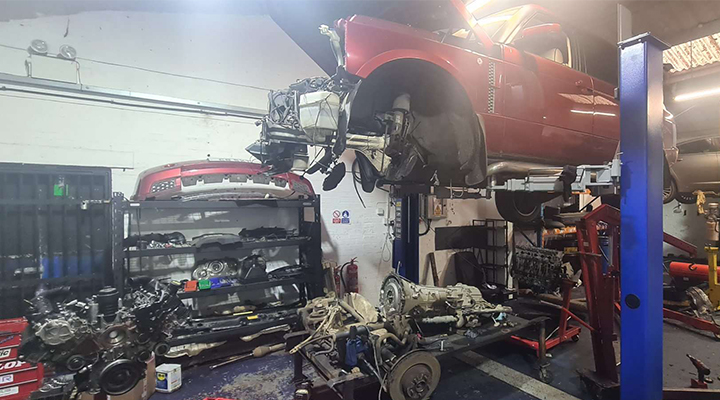 If by any chance we do not have the required engine available then we have the option available to rebuild your existing faulty engine of Range Rover Vogue.
About Range Rover Vogue
Range Rover originated in a two-door model over 5 decades ago and the claim was a bold one. It was a luxury brand of Land Rover that allured the elites of Europe for a long time.
Today's Range Rover has made astronomical strides in terms of technology, luxury, performance and style and comes in so many variants and trims that for a normal person it is hard to remember. Today the Range Rover compete with Q7 and Bentley Bentayga in terms of luxury and style with technology while the engineers have left no stone untuned to make sure that this vehicle can climb up a mountain.
Don't be fooled for a moment and think that Range Rover Vogue being the entry level Rangie is any less than the other variants. With a flurry of equipment coming as standard and does justice to its huge price tag of 80K. At such high price range, it would be an understatement to call this variant an entry level Range Rover. It provides you all the pomp and perks including the luxury interior and impressive and elegant exterior.
You get 20 inch 12 spoke style alloy wheels as standard with matrix LED headlights and keyless entry with rear view camera for improved visibility as standard. In the interior you get all the perks as standard such as luxury leather seating, 13 speaker sound system with 2 sub woofers and infotainment system to keep you entertained.
Range Rover Vogue exceeds expectations in every aspect apart from the engine department where it comes with under par performance and questionable fuel economy.
All in all, its an excellent choice if you are about to get on to the ladder of Range Rover band wagon and an excellent choice if getting an entry level luxury SUV is your aim.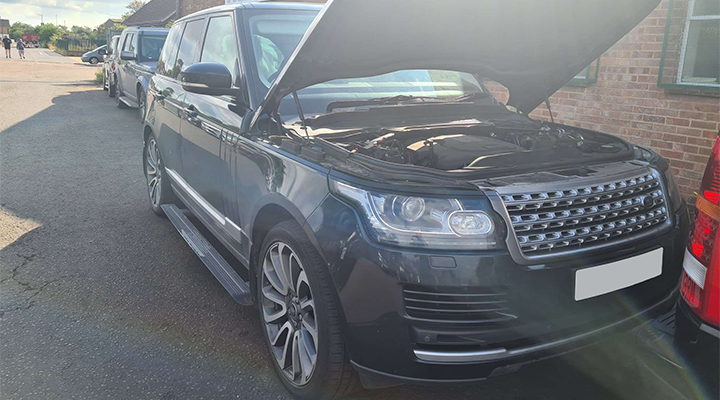 What Makes Us the Best Choice When it Comes to Range Rover Engine Replacement?
Experience and state of the art facility is what makes us stand out from the crowd. We have decades of experience in fitting, replacing and rebuilding the engines. We use most updated equipment to get the job done and employ latest practices that help us achieve best results. We have a huge collection of Range Rover engines of all models and can provide both used and refurbished Range Rover Engines at your request that are robust and reliable. Our experienced mechanics can rebuild your existing Range Rover Vogue engine to its former glory and we can do the whole process while you do not have to leave your home at all.
100% Customer Satisfaction and Up to 60% Savings
We pay special heed towards customer satisfaction. We provide this by offering warranty for each engine sold by us or rebuilt by us. This gives our customers confidence to buy from us and will to come back for more. As far as the savings are concerned, you save almost up to 50% when you decide to buy used or refurbished engine from us or get the existing engine rebuilt when compared to what you would pay for brand new engine. Our festive sales can add another 10% extra on top of those exceptional savings. That can elevate your savings up to 60%.
Fast and Secure Pick and Drop Service
It is understandable that not everyone has enough time on their hands and some people run very busy schedules. We can arrange swift and convenient pick and drop facility which means that we can pick your vehicle where ever it is and either replace or rebuild your engine, test it and bring it back to your doorstep at minimal price. We can go on about our service for a long time but you only get to know the difference when you come and experience our services yourself.