Range Rover is famed for its L322 powerful and smooth-running engine. These engines are notorious for presenting problems with the passage of time. If you are looking for the replacement of this specific engine or are considering a rebuild of the existing engine, Royal Rebuilds could be a great help in finding and acquiring a robust engine or rebuilding the existing one. Best thing is that you can complete that whole process by staying in the safety of your home.
Experienced Engine Replacement Experts
We have performed countless engine replacements and engine rebuilds to date. Our client testaments shine the light on our dedication to our craft and our commitment to quality. We run test and compression test every engine that we fit to ensure the safety and performance of the engine. Our mechanics are used to get replacements and rebuilds on daily basis and command vast experience in such tasks.
Best Suited Workshop for Replacements and Rebuilds
Our workshop is best suited for engine replacements and rebuild jobs and we use the latest equipment to get the job done. Our staff is expert and it has become second nature to them to complete those jobs. Despite being such an advanced workshop and experienced staff, we charge minimal amounts for those jobs so we keep the process affordable for everyone.
Always Available L322 Engines
It rarely happens that we are out of stock with L322 engines, we always have enough stock of those highly effective engines available in our stock. We have used and refurbished engines available in our stock all the time but if by any chance we do not have them available then we promise to rebuild your existing engine to the highest of standards so it works as well as a new engine.
Ultimate Customer Satisfaction and Huge Savings
We leave no stone unturned when it comes to providing customer satisfaction to our customers. We offer warranty on every engine replacement or engine rebuild depending on the condition of the engine. This gives immense amount of confidence to our customers and help them come for more. You attain 50% savings when you decided to buy a replacement engine instead of new one and our festive sales can add further 10% to the savings
Fast and Reliable Delivery and Fitting Services
What if you do not have enough time to go through the whole process? Worry not. We are here to help you out. Up to a reasonable distance, we can arrange a pick up of your vehicle where ever it is parked. We get the replacement or rebuild job done and bring it back to you asap. Or we can deliver your engine at your address with a fast and reliable delivery service.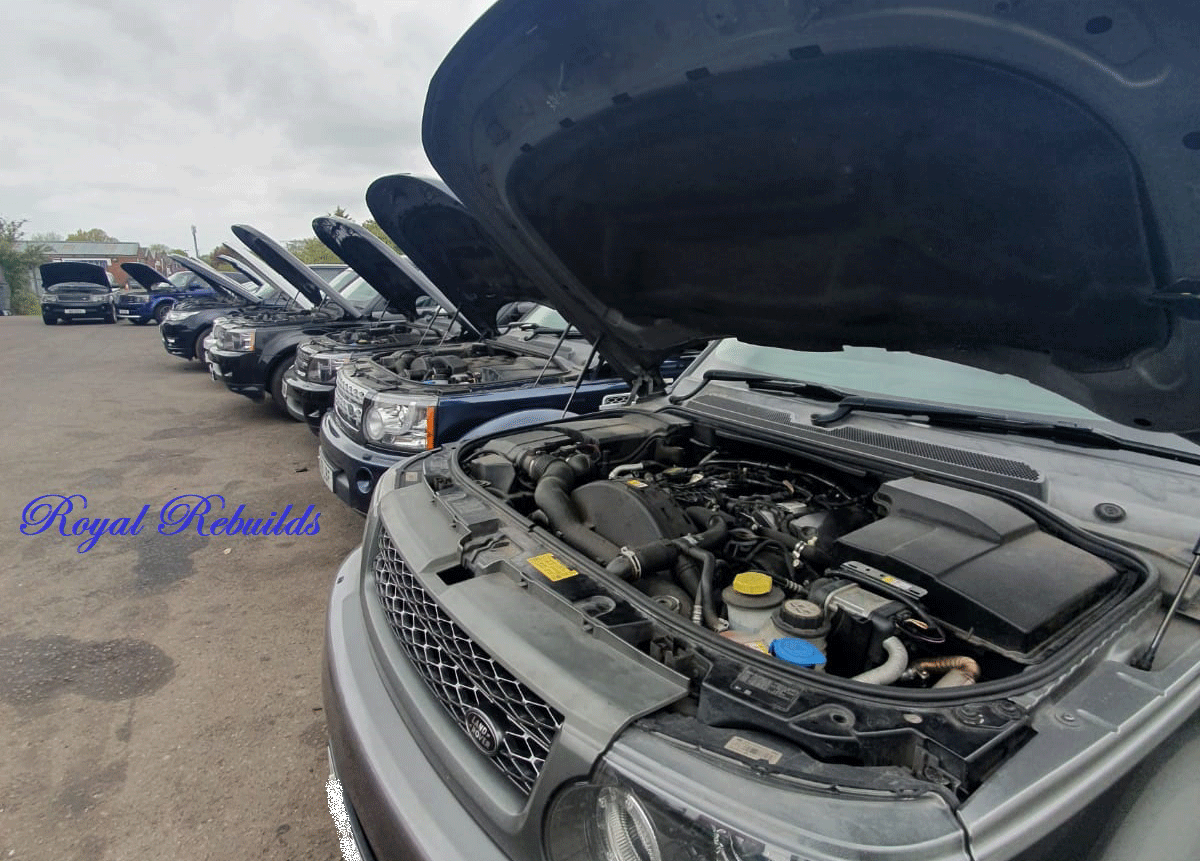 The Range Rover L322 (commonly known as the "Range Rover") is the third-generation Range Rover model from a renowned automobile manufacturing brand, Land Rover and was originally produced under the codename 'L30'.
The L322 was unveiled in the year 2001 and had a production run of over ten years. Mapped out and produced under BMW ownership, the vehicle was projected to share constituents and systems (electronics, core power units etc.) with the E38 7 Series. Be that as it may, BMW had already sold Land Rover to Ford almost a couple of years before the L322 engaged in commercial production.
In the UK and many other regions, ascending trim levels were at the beginning advertised as "SE", "HSE" and "Vogue". Numerous other trims such as "Vogue SE", "Westminster", "Autobiography" and special editions were later brought in.
Jeremy Clarkson once unveiled publically in his Sunday Times column that he owned a Range Rover TDV8 Vogue and spoke highly of it saying it was 'the best car in the world and best 4x4.'
The L322's descendent, the L405, was brought into play in August 2012 and divulged the same year at the Paris Motor Show.
The past generation P38 Range Rover or "Pegasus" had been developed whilst the British Aerospace owned Range Rover group and during the development, the budget was extremely tight. There was also the press criticism of the P38A that its styling lacked the "presence" of the original 1970 Range Rover.
When the Rover Group was purchased by BMW right after the P38A's introduction in 1994, the newly appointed BMW management at Land Rover rapidly came to the conclusion that the car would have a short shelf life in contrast to its forerunner, because of its principally old-fangled underpinnings, and the scheduled '99 Model Year' updates were abolished. A projected replacement for the Discovery was put back and the progress of an all-new Range Rover, codenamed L322, took import.
The initial codename for the project was L30, in line with the then system of Lxx for Land Rover projects, such as Freelander (L20) and Discovery2 (L25). The L30 was a mutual project comprising engineers from both Rover Group and BMW and was firstly based at BMW's FIZ Engineering Centre in Munich before shifting to Land Rover's Solihull plant for the final stages before the bulk manufacture.
Munich was picked to house the team as Rover Group's Gaydon Engineering facility was already working on the latest MINI (R50) project plus the other MG, Rover and Land Rover projects and did not have adequate room for a new large engineering team to be centred there.
The sale of Land Rover by BMW to Ford came about just before it moved to Solihull and the contract comprised a clause which continued BMW's association until after the car went into volume production.
The shift to Lxxx codenames happened after the sale to Ford with L30 being retitled as L322 at the top of a model range of Range Rover Sport (L320) Land Rover Discovery (Discovery3 L319), Land Rover Defender (L316) and Freelander (L314).
The third-generation Range Rover was developed to make room for BMW's M62 V8 engines to be fitted in the upcoming models for future models. The manual transmission was excluded completely leaving only the automatic transmission. The BMW 7 Series E38's electronics system was being phased out in the course of the development of the third-generation Range Rover, and being swapped with the electronics systems of the BMW E39 5 Series.
The entertainment system such as radio function, Television and Telecommunications systems, automotive computer bus system as well as the navigation system on pre-facelift models were just about similar to those in the BMW E39 5 Series. Primary models of the third-generation Range Rover could be renovated with some latest BMW technologies, although from 2005 onward the electronics were built on Ford/Jaguar systems.
Initial release
Pre-facelift Range Rover Vogue
The furious Range Rover Vogue has a cantilever construction design with four-wheel autonomous air suspension. Air suspension endorsed variable ride height and got similar axle articulation to the prior live axle design. It possesses off-road abilities while quite improved on-road performance.
The new Range Rover's presentation in late 2002 as a 2003 model for the North American market lead to the Range Rover and Ford Expedition being the only two SUVs in the standard sport utility class with four-wheel independent suspension systems at that time.
In the beginning Range Rover incorporated air-cooling system with tri-zone climate controls along with power tilt leather-wrapped steering wheel plus radio controls, memory system, embellished twelve-way power driver seats, ten-way power kerbside seat, cruise control, power sunroof, a top-notch sound system with six-disc CD changer, navigation system with voice recognition, rear-view camera, wireless mobile phone connection, universal garage door opener, and outside-temperature gauge. Options encompassed 14-way power heated/cooled front seats, DVD theatre system, and advanced leather upholstery.
Range Rover 4.2 L Supercharged
At the 2005 North American International Auto Show, a key feature of the Range Rover was revealed, with the base model using the Discovery 3 engine, and an outstanding model using a boosted version of the Jaguar 4.2-litre V8 developing 400 hp (298 kW) — the same engine censured for the new Range Rover Sport (the RRS model uses a detuned variant making a total of 389 bhp (290 kW; 394 PS)), arranged to present at the same time (mid-2005) as the modernized Range Rover.
The engines are aluminium alloy entities, with the innovative torque-based engine management system, drive-by-wire throttle, and adjustable camshaft phasing (on the 4.4-litre version).
2006 Facelift Vogue Interior
The Range Rover's exterior was modernized in 2006 accompanied by the BMW V8 being substituted with a Jaguar unit. The new engine available options were Jaguar's AJ-V8, with 4.4-litre 300 hp (220 kW) or 4.2-litre 400 hp (300 kW) supercharged modifications. This new Range Rover was formally exhibited at the 2005 North American International Auto Show and unleashed in summer 2005.
From the diesel engine of the 2006 model (at this time still there was BMW six-cylinder unit) to the supercharged V8, the car could reach 97 km/h from 14.8 seconds or as less as 6.5 seconds and has a maximum speed of 210 km/h correspondingly.
In addition to the engine transformation, the 2006 Range Rover is fortified with a restructured "infotainment" system. It encompasses a touch screen with on and off-road navigation, Satellite Radio (US), phone, rear-view camera, a wireless video camera system and other surplus features, all retrieved through the same user interface.
The built-in DVD system is associated by an industry-standard fibre optic network known as Media Oriented Systems Transport or MOST and an electronic network system also called as CAN bus. An analogous structure is also used on Land Rover Discovery and Range Rover Sport.
Contractors of 2006 Range Rover's machinery include Continental Automotive for the whole cockpit module which fit in the Denso touch screen navigation unit. Continental also provides the centre console unit. Other suppliers involve Alpine Car Audio for integrated head unit rear-seat entertainment. Connaught Electronics Limited (CEL) arranges for the Rear View Camera (RVC) and Wireless Camera (VentureCam) systems and PTI telephone proficiencies are provided by Nokia.
Most significantly, the audio system was co-developed by Harman Kardon. The state of the art contribution gives a 720 Watt, 14-speaker system and was the first OEM vehicle to use the detached Logic 7 surround algorithm.
For 2007, most of the Range Rover's alterations were mechanical or interior. Be that as it may, the external C-pillar was given a glass facelift of the same kind as that of the Range Rover Sport, hitting a delicate yet clear exit from the original BMW influenced design.
Heading towards the interior, the concealed folding cup holder that popped out of the end of the dashboard in preceding models was substituted by a decent and more robust in-console design. The ignition switch was relocated from the lower part of the centre console up to the dashboard, next to the steering wheel and the Range Rover acquired the Range Rover Sport / LR3's Terrain Response system along with a remodelled four-wheel-drive control panel.
The handbrake is now electronic. Moreover, the seats vary from the old-fangled style, making the new Range Rover Sport with cooling fans elective on the HSE/Vogue and standard on the Vogue SE and Supercharged. Heated seats are standard on all versions and the premium seats from the BMW era are dropped.
The HVAC system is also upgraded with lots of vents and noiseless operation. That, together with the acoustic laminated windscreen diminishes the noise. A rise in the interior room is mainly ascribed to the new split-dual glove box. And then as an amendment to the earliest Range Rover styling, additional wood inserts have been attached to the centre console and doors. Halfway through the manufacture of the 2007 model, the design of the key was also changed from the BMW design to Land Rover's "switchblade" type.
The BMW M57 diesel engine was swapped for the year 2007 with the TDV8 engine made by Ford and Land Rover at Dagenham and Gaydon. The 3.6-litre AJD-V8 32-valve twin-turbo V8 engine delivers 272 hp (203 kW), a lot more than the 177 hp (132 kW) of the earlier engine and this power enables it to take care of the weighty vehicle. The highest speed is 124 mph, whilst it took just 8.6 seconds to reach 60 mph from rest and for a car having a kerb weight of almost 2.7 tons, it's simply amazing. Torque is a significant 472 lb/ft (640Nm) at 2,000 rpm.
Other changes for 2007 comprise modified suspension, better brakes and Land Rover's Terrain Response system. Supercharged Range Rovers have an electronic rear differential which is optional on other models.
2010–2012 Land Rover Range Rover
For the 2010 model year reinvigorate, the Range Rover was presented with a new-fangled exterior grille, LED head/tail lights, bumpers, a multi-camera vision system, a couple of brand new engines comprising a 5.0 normally aspirated and 5.0 supercharged v8 engine, and a lot more. It was divulged at the 2009 New York Auto Show.
MY2010 Range Rover Vogue
On the inside, the Range Rover was given a tiny revamp, constituting greatly of reshaped and shifted switchgear (which saw many of the originally BMW era designed items updated or swapped), along with new alternatives never before offered for Range Rover.
The 2010 Range Rover also gained new visual display units as also seen in the new for 2010 Jaguar XJ (X351). This change involved a 12-inch TFT LCD virtual instrument panel, which substitutes the conservative cluster design. The virtual gauges are now on the display where physical analogue gauges were formerly.
This permits numerous sets of information to be presented as needed. For instance, navigation and map information can be demonstrated as a substitute for engine readouts, whilst when one of the off-road driving modes is chosen on the Terrain Response system, the 'gauges' are restructured to offer enough room to display the graphics of the vehicle's suspension, transmission and steering systems.
The other display unit is placed on the centre console and makes use of a bi-directional screen to display separate images hinged on viewing angle (may not be accessible in the US). This enables navigational information to be shown to the driver, whilst anyone on the front passenger seat can put the same screen into service to use the on-board DVD player simultaneously. This system also encompasses an advanced multi-camera system that enables the driver to examine the vehicle during manoeuvres and comprises several overlays and views.
The 2011 Range Rover models contain small design alterations, enhanced interiors and an improved 4x4 system along with new optional sets. A new 4.4-litre TDV8 diesel engine got accessible with a new ZF 8HP70 eight-speed automatic transmission. Also, this model got very decent leather and wood colours, over and above reclining rear seats with winged headrests. A new Autobiography Black model structures a distinct grille, Barolo Black paintwork, and a choice of Jet/Ivory or Jet/Pimento interiors.
| Model | Years | Type of the Engine | Power | Torque |
| --- | --- | --- | --- | --- |
| 4.4 L V8 petrol | 2002-2005 | 4,398 cc (268 cu in) DOHC 32V variable valve timing V8 (BMW M62) | 286 PS (210 kW; 282 hp) @ 5,400 | 440 N⋅m (325 lbf⋅ft) @ 3,600 |
| 3.0 L Td6 diesel | 2002-2005 | 2,926 cc (179 cu in) straight six turbocharged (BMW M57) | 177 PS (130 kW; 175 hp) @ 4,000 | 390 N⋅m (288 lbf⋅ft) @ 2,000 |
| 4.2 L Supercharged V8 petrol | 2005-2009 | 4,197 cc (256 cu in) DOHC V8 supercharged (Jaguar AJ-V8) | 400 PS (294 kW; 395 hp) @ 5,750 | 560 N⋅m (413 lbf⋅ft) @ 3,500 |
| 4.4 L V8 petrol | 2005-2009 | 4,394 cc (268 cu in) DOHC V8 (Jaguar AJ-V8) | 306 PS (225 kW; 302 hp) @ 5,750 | 440 N⋅m (325 lbf⋅ft) @ 4,000 |
| 3.6 L TDV8 diesel | 2006-2010 | 3,630 cc (222 cu in) twin-turbocharged V8 (AJD-V8) | 272 PS (200 kW; 268 hp) @ 4,000 | 640 N⋅m (472 lbf⋅ft) @ 2,000 |
| 5.0 L V8 petrol | 2009-2012 | V8 (AJ133), 4,999 cc (305 cu in) | 375 PS (276 kW; 370 hp) @ 6,500 | 510 N⋅m (376 lbf⋅ft) @ 3,500 |
| 5.0 L Supercharged V8 petrol | 2009-2012 | 4,999 cc (305 cu in) V8 supercharged (AJ133) | 510 PS (375 kW; 503 hp) @ 6,000-6,500 | 625 N⋅m (461 lbf⋅ft) @ 2,000-2,500 |
| 4.4 L V8 TDV8 diesel | 2010-2012 | 4,367 cc (266.5 cu in) V8 t/turbo (Ford AJD-V8) | 313 PS (230 kW; 309 hp) @ 4,000 | 700 N⋅m (516 lb⋅ft) @ 1,500-3,000 |
Limited editions
20th Anniversary Edition
Land Rover brought out the 20th-anniversary edition Range Rover (of which only 40 units were manufactured) to celebrate 20 years in North America. Each unit is a supercharged Range Rover beautifully painted in a special pearl white colour having diamond split-spoke 20-inch wheels and a new-fangled, two-tone interior.
Badges placed on the doors and tailgates represents each unit by its production number out of the 40. Only one unit of each model was handed round per dealer, and the dealerships were singled out by making use of a lottery. The last model was auctioned at an unstated auction for charity.
35th Anniversary Edition
This was a UK spec production run, with a total of 35 cars produced in Claret coachwork having 2-tone claret/jet interiors. The specifications were hinged on the Vogue SE and fixed with the 4.2-litre supercharged 400 bhp (298 kW; 406 PS) Jaguar V8.
Armoured Range Rover
An armoured Range Rover Vogue was created by Land Rover Special Vehicles in the year 2007, in collaboration with the Armour Holdings Group. This Range Rover was specialised for European B6 ballistic protection standard.
Uprated suspension, Side-blast and under-floor grenade protection, handling and braking system, wheels coupled with run-flat tire system, and fuel cut-off override were the main features. Optional security features comprised tinted windows, anti-tamper exhaust, and intercom.
Autobiography Ultimate Edition
A specific edition made completely by Land Rover. The vehicle is little different when it comes to the front using a standard autobiography, more wood finishes are on offer, because of the reason that there are a few unique trim pieces.
Be that as it may, when it comes to the rear cabin, it is equipped with a couple of iPads, electric reclining climate-controlled seats, an immovable armrest coupled with metal laptop desk and a refrigerator. There are a couple of colours on offer each having 20-inch wheels, smoked grills and gills and body-coloured door handles. Just 500 units were manufactured.